Meet
Dr. Robert C Dees, DC BCN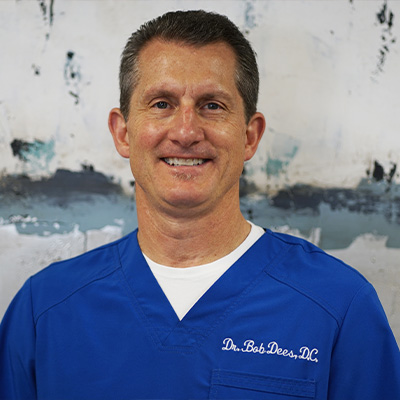 Doctor of Chiropractic
Board Certified in Neuropathy
Dr. Robert C. Dees, DC BCN has been serving patients' needs since 1993 at his clinic in San Ramon. As a Chiropractor with over 30 years of experience, he is committed to promoting the health and well-being of his patients whether they are infants or elders. He has successfully helped thousands of patients such as children, athletes, and seniors regain their health and freedom from many different health conditions.
Dr. Dees uses a "whole person approach" when taking care of his patients. By combining the very best hands-on techniques, state-of-the-art chiropractic protocols, and procedures, Dr. Dees and his team of specialists' goal is to help you accelerate and/or maintain your journey to good health through multiple natural methods.
He has expanded the scope of the office in 2015 by opening a new department known as SF Bay Wellness as well as being honored as an exclusive member of the Blueprint Healthcare Provider Network. This network has allowed SF Bay Wellness to specialize in Peripheral Neuropathy treatments aimed at actually reversing the devastating effects of Neuropathies. SF Bay Wellness also specializes in treating chronic and acute knee issues, spinal disc conditions, plantar fasciitis, and many other pain-related conditions. The clinic also provides comprehensive Weight Loss solutions and treatments for other "gut" related conditions.
Dr. Robert (Bob) Dees grew up in Pittsburgh, Pennsylvania. Here he attended the Montefiore School of Radiologic Technology where he received his R.T. (R) degree (Radiologic Technologist specializing in Diagnostic Radiology). He also attended the University of Pittsburgh to study and receive his pre-Chiropractic training credentials. Dr. Dees began his chiropractic career as a patient who injured himself playing High School football.
Dr. Dees obtained his Doctor of Chiropractic and Basic Science Bachelor Degree from the prestigious Palmer College of Chiropractic in Davenport, IA graduating Summa Cum Laude (3.95 GPA) as a member of the Pi Tau Delta scholastic honor society in October of 1990. He is a member of the I.C.A. (International Chiropractic Association), the A.R.R.T. (American Registry of Radiologic Technologists), and Board Certified in the State of California. He is also a member of the International DISC Educational Association - (I.D.E.A.) specializing in Spinal decompression for spinal disc conditions such as protrusions, stenosis, and herniations. He is also Board Certified in Neuropathy.
Dr. Dees was chosen to co-author the best-selling book The World's Best Kept Health Secret Revealed. This best-selling book has sold 25,000 copies and gained bookstore acceptance prior to printing. In this book, Dr. Dees and his colleagues, who are also renowned wellness experts, provide readers with a wealth of knowledge that will help them understand what subluxations are, how they can deteriorate health, and how they can be removed without drugs or surgery through Chiropractic. In 2023, he co-authored the book Neuropathy Answered: How to Actually Heal Your Body Naturally.
In July 2006, Dr. Dees received the prestigious distinction of being voted one of "America's Top Chiropractors" by the Consumer Research Council of America. In 2019 he was voted one of "America's Best Chiropractors" by the National Consumer Advisory Board and recognized as a 7-consecutive-year member of The Best of San Ramon. Canyon Chiropractic was voted in as the "Best of" on Nextdoor in both 2020 and 2021.
He is married to his wonderful wife, Susan, for over 25 years and they have three fantastic children. One of them, Dr. Nicole, joined the practice as a Doctor of Chiropractic in 2021.